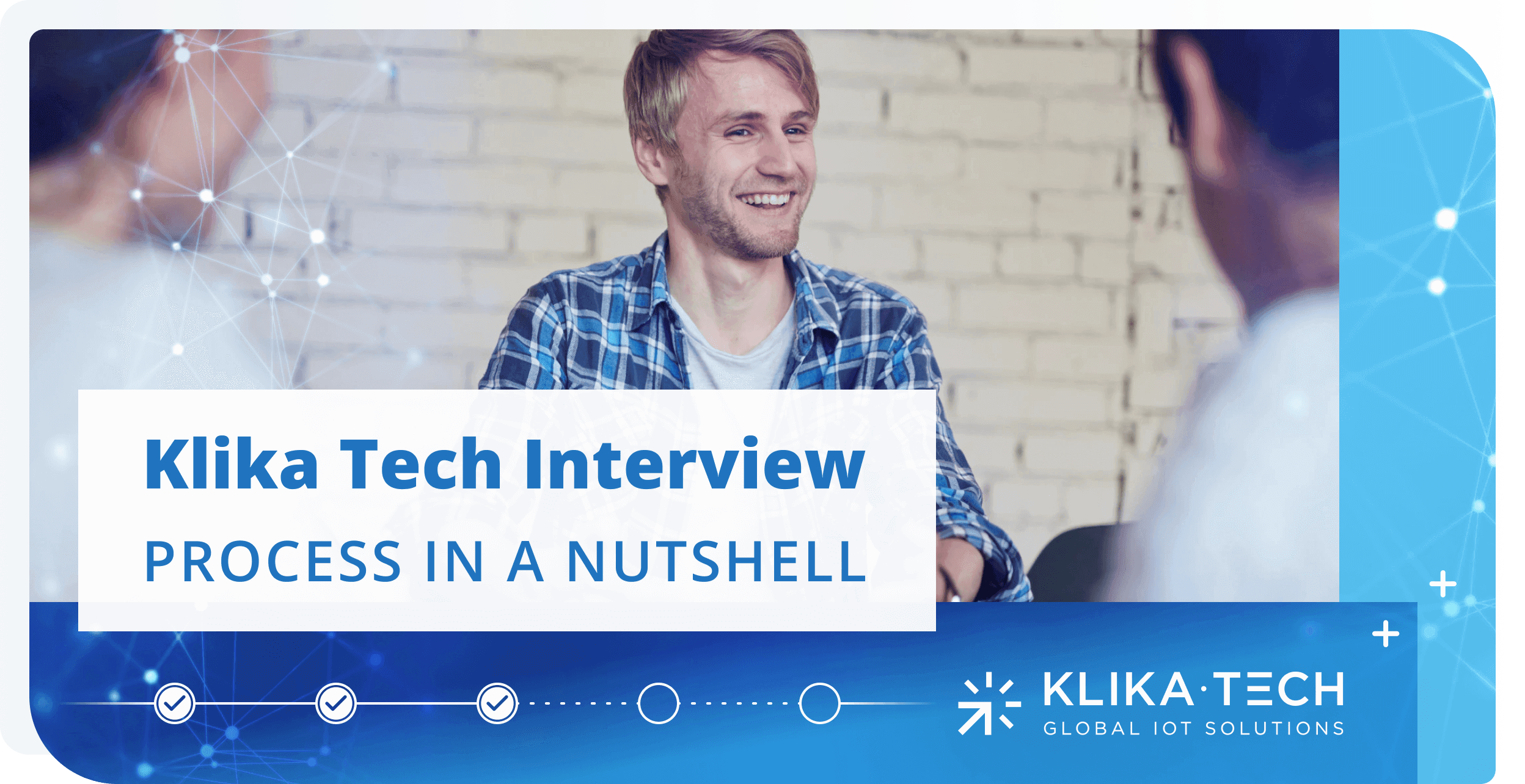 Every company has partners and clients and delivers products and solutions, but behind the scenes, it is always a team of people working together, and we are all unique and awesome in our own way.
This raises basic but essential questions, such as:
How do companies ensure they hire people with matching cultural and professional beliefs?
What are the rules companies use when forming successful teams?
Here, we want to pull the curtains back and tell you how our interview processes work at KlikaTech.

STEP 1: CV REVIEW
The purpose of this step is to study your resume and understand your strengths.
We often have dozens of similar positions and opportunities open at the same time. Therefore, our recruiters and managers from various teams will look at your resume and collaboratively determine which projects are best suited for you. We will discuss these projects and opportunities later in the interview process.

STEP 2: INTERVIEW WITH RECRUITER
This step will be a video call with our recruiter, and we will discuss your experience in detail.
Expect a relaxed and friendly conversation about your:
Previous work
Communication style and other social skills
We will not speak about technology at this stage. Instead, we will concentrate on the "human" aspects of work. It's a good moment for you to ask about our company's culture, core values, current projects, and the processes we use. At any point during this discussion, please highlight your previous accomplishments and how you think they apply to working with us.
We're a global company that unites people from different parts of the world by working with a diverse group of clients and partners. This makes communication in English integral between our offices, teams, and clients. If English isn't your native language, we will have a brief conversation to evaluate your communication skills.
We will also go over the general expectations and responsibilities of the position you applied for, explain our benefits package, and touch on other relevant job details.

STEP 3: TECHNICAL INTERVIEW
This conversation will be another video interview with our recruitment team and technical experts which usually lasts approximately 1:45 hours.
Depending on the position you're applying for, we will go into details about your technology stack expertise, learn about frameworks and tools you have worked with most, and/or talk about your leadership or managerial practices.
Software Developers being interviewed will answer questions focused on their main area(s) of experience and core technology stack.
For example, JavaScript interview questions are likely to ask about the specifics of working with Node.js, React and other libraries/frameworks, common application use cases, system design, and, of course, the importance of teamwork. As you work through this, we would certainly like to hear about what you like and don't like. Here we hope to see deep and authentic interest in these technologies and computer science in general. This helps us measure how your knowledge of these technologies has progressed along with your career.
Since we work with many clients from across a wide range of industries, it is also important for us to see how broadly you can think and apply technologies in real business conditions. Here we want to see how you adapt to changes and adjustments that may be made during the development process.
In the QA interview, the questions focus on software testing types, tools used, and what strategies apply to specific workflows. You might know processes well but lack attention to details and knowledge of how an application works. We want to see if you are meticulous in your approach to work, gauge your passion for automation, and evaluate your general systems design proficiency.
For management positions, we ask questions that help us understand your leadership qualities, management skills, and general understanding of the technological field. To learn more about your previous experience in a managerial role, we have questions about Agile, Scrum, as well as specific business cases and methodologies.
This stage of the process helps you gain insight on how we work and provides an opportunity to demonstrate your skills.

STEP 4: PROJECT AND/OR DEPARTMENT MANAGER INTERVIEW
Depending on the role you are a candidate for, you will now meet with either a project manager or department manager. For some positions, this stage can be combined with the Tech Interview. At this stage of our interview process we will discuss a particular project in more details, such as the tasks that will need to be completed, the processes that will be used, and the team you would work with.
For projects where a specific technology will be used, we may ask a question or two about it to learn how much experience you have with it. We hope to find that we have a mutual level of deep understanding of the work being discussed and how you will fit.
There are other cases at this stage of our process where you might talk to several project managers to pinpoint the near-perfect fit for your skillset. This enables us to identify what you can get started on right away, and identity future work to include you on.

STEP 5: JOB OFFER
After a successful technical and project interview, you will be invited for the offer meeting with our recruiting specialist.
We use this time to go over the terms of the agreement, details, and answer questions you may have about the offer we are making:
Compensation
Position
Benefits & Perks
Workplace (remote/in office/hybrid)
Come ready to discuss the offer and get clarification on anything you may be unsure of.
MAKING IT OFFICIAL
After you talk with our recruiting specialist, you will receive an official job letter in your email. This includes all terms, statements, and conditions you spoke with the recruiting specialist about and demonstrates our mutual agreement.
Before your first official day of work, we will send a "welcome aboard" letter that asks you to spell out the necessary data for the contact and workplace preparation.
Congratulations! We appreciate the time you spent preparing for each interview and are happy that your next career step will be with Klika Tech.
For more, take a look at our available opportunities.